Do you think you must cancel your air tickets because something urgent came up before your trip? Well, that's not the case with the United Change Flight facility, as it lets you make changes to your itinerary without any fee in many cases.
United Airlines lets its passengers change their flight from the United app, customer service, self-service kiosks at the airport, or through its website. Also, it has permanently removed the change fee for flights originating in the US for some fare categories. 
Read and learn when and how you can change your flight on United Airlines.
24 Hour United Change Flight Policy
As per the rules of United Airlines Change Flight policy, a passenger can modify or cancel their reservations with United within 24 hours of purchasing the ticket to receive a 100% refund in the original mode of payment. 
However, this booking must be equal to or more than 7 days before the United flight's departure. This facility is valid on tickets bought from United Airlines' official app, website, or the live executive's help. Note that the guidelines cover only cancellation in basic economy bookings.
How Can I Change United Airlines Flight Tickets Online? 
United Airlines Change Flight guidelines let you modify your booking through the United application, website, at the airport, or via the United customer service.
Follow the step-by-step method to alter your United booking online: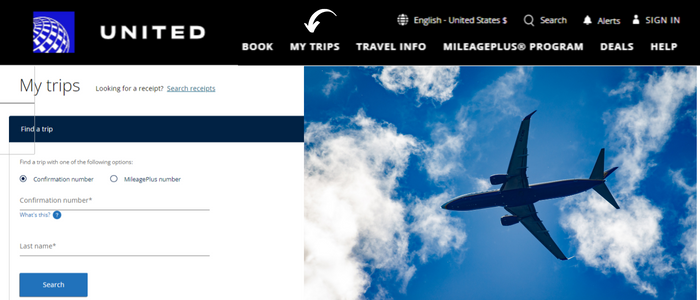 Firstly, open the United official app/ website.

After that, click the

My Trips

option available at the top of the homepage.

Next, identify your ticket by entering your last name and confirmation number.

Afterward, press the

change flight

button.

Further, you can modify the destination, date, and time or add/ remove a flight from the reservation.

Lastly, note that the change in fare will apply, and you may have to pay the United Airlines Change Flight charges, if applicable.
Finally, click edit and make changes to your itinerary when you are at the last step. You will soon receive a confirmation mail from the airline with the new United change flight number.
Change United Airlines Flight Offline
Changing your reservations with United Airlines is possible with live chat and call options. Dial the United change flight number 1(800)864-8331 to connect.
Follow these steps to get in touch with a live travel expert of United for changing reservations: 
Firstly, call the customer assistance United phone number that we mentioned above.

After that, dial 1 for a new/ existing booking.

Next, press 3 for flight refunds or another quarry.

Lastly, wait for your turn to connect with the live travel expert and be ready with the new details from which you wish to change your existing flight to United.
Those near the United Airlines office in Chicago shouldn't hesitate to talk to the United staff at their physical offices, to resolve the change flight query.
United Change Flight Fees
Even though United has waived its United Airlines Change Flight charges for almost all fare classes, you may need to pay the amount depending upon your case. It usually applies 10% of your fare as the United Airlines Change Fee for canceling or changing flights.
United Cancel Flight Rules For Award Tickets
All award tickets, except basic economy award ticket holders, do not have to pay any fee. They can choose to make changes as many times as they want. In any case, they must pay the difference in fare through miles or their credit card.
However, when your flight is not originating from the USA, you will have to pay the United Airlines flight change fee when the ticket is modified less than 30 days from the date of the flight's scheduled departure. 
Non- Refundable United Airlines Flight Change Ticket Policy
As per United's new reservation changes policy, you can make changes for free to a non-refundable ticket. However, you will have to pay the difference in fare and follow these conditions to get the waiver in the change fee:
When the 24 hours risk-free window is closed, and the ticket is booked for more than 7 days from its date of departure, you didn't modify the United booking on time. 

Also, when your international flight didn't originate from the USA.
United Change Flight Basic Economy Ticket Fee Policy
As per the United Airlines flight change policy for basic economy, you can not make changes to such tickets even within the 24-hour golden period. Such tickets don't have any other facility and are for light travelers. Hence, no change policy is awarded to such tickets.
Instead of changing the booking and incurring a fee, passengers can cancel it immediately within 1 day of reservation with United as they will receive a 100% refund in the original payment method. They can use this amount by making a new purchase from United's Group Desk or online.
United Change Flight Refundable Ticket Fee Policy
Refundable ticket holders of United can make endless changes per the United Airlines' 24-hour flight change rules. However, they will not incur a fee without this rule. One thing to note is that you will still have to pay the fare difference, provided you choose a costlier booking. 
When picking a cheaper ticket, the fare difference will be refunded as credits to the United passenger. They can use it for future purchases with the airlines.
When Can I Change My United Flight Without Paying A Fee?
If you have an Economy, Economy Plus, United First, Business, and Premium Plus fare ticket, you don't need to pay United Change Flight fees on these flights: 
Domestic flights within the USA.

Flights Between the USA and Mexico.

Flights Between the USA and Caribbean.

International flights originating from the USA

Traveling in Alaska, Hawaii, the Virgin Islands, and Puerto Rico. 
Basic economy or non-refundable United flight tickets are not eligible for the change fee waiver. Other United economy tickets can reschedule flights for free.
How Do I Rescheduled United Airlines Flight?
As per the United Change Flight rules, the airways may reschedule, delay, discontinue a route or cancel your flight for controllable/ uncontrollable reasons. 
However, you will receive a 100% refund in the original form of payment under most circumstances. If there are changes in your flight type or other modifications, you will receive an email providing reasons for the same. For purchases through travel agents or third-party websites, they will be responsible for informing you in case of any such modifications from the airline company.
In case the rescheduled flights aren't suitable, you can do the following things:
For bookings via travel agents, ask them to help you out. If you are willing, ask them to rebook another ticket per United Airlines Change Flight rules.

Contact live representatives or visit their official sources when bookings are straight from the app, website, or United Airlines customer service. Check out the

My Trips

option to rebook or ask for a refund.
In such cases, you must check the United flight status before canceling or rebooking another flight with the company.
United Change Flight Options For Delayed, Cancelled, Or Missed Flights
Under its same-day United Airlines Change Flight facility, get a seat on a new flight with the same itinerary if the current flight is delayed by an hour.
The same applies when you miss a connecting flight. At no additional cost, you can ask to be on the standby list without any charges. Just check in for your new flight by following the steps mentioned below:
Firstly, download the United app/ visit the website or go to the check-in option.

Next, enter the required trip details and change them by picking a more suitable flight from the list.

Next, ask the airport kiosk to confirm your changes, and they will either put you on a standby list or get you a flight straight away.
However, you can ask for a refund if available options aren't suitable. If your flight is non-refundable, you will receive credits in your account.
United Change Flight Standby Policy
You can join the United Airlines standby list for an earlier flight free to avoid United Airlines alteration fee policy or if there aren't any confirmed bookings. Passengers must arrive two hours earlier than departure and stay prepared to wait for another flight if seats are unavailable. 
How Do I Join The Standby List Free For United Change Flight?
Firstly, talk to the United customer contact center executives, or use the website/ app to list yourself on the standby list.

Otherwise, when you visit the airport kiosk, add yourself to the waitlist after checking the itinerary and clicking the

view flight

button. You can also take assistance from the live staff.

After putting your name on the waiting list, the airline will display your first and last three letters of first and last name on the screens at the new flight's gate. To check the united flight status, you can also see the real-time lists on the app or the website.

Also, note that the list prioritizes Mileage plus premier members only if you don't have the United Airlines basic economy flight ticket.


Basic economy tickets don't have to pay the United Change fee, but they come last on the priority list.

If available, you will be assigned a seat on an international flight 60 minutes before the departure. For domestic flights, this time is 30 minutes before take off.

The waiting list priority for standby flyers:
Premier status

Travel fare category

Cardholders: Chase United MileagePlus Club, Presidential Plus

Corporate preferred from United

Chase card members with a $25k annual spend.

Date & Time Of United standby request.
Once you are allotted the benefits of change flight same-day standby facility, United will inform you via notifications on email and texts.
United Airlines Revised Modification Policy Facilities
Subject to different fare categories, you can change your flight on United Airlines and receive these facilities. However, read the terms and conditions as not all the benefits might apply to your booking.
Firstly, if you change your United Airlines reservation but aren't sure about it, there is no need to pick another flight immediately. Since you will receive the flight credits, you are free to book another flight within one year of their issue.

Also, the United Airlines Policy doesn't offer waivers for group travel tickets for direct or indirect purchases.

Besides, if the new flight is cheaper than the previous booking, you can still reschedule and receive future credits against the remaining amount.

Mileage members do not have to pay to make changes to United Airlines flights, such as getting a seat on an earlier flight.

Apart from paying the fare difference, flyers don't need to worry about the number of changes they make to the booking, as you have unlimited chances to do so.
Lastly, all fare categories, including basic economy, can take an early flight under the United Airlines 24-Hour same-day policy.
Frequently Asked Questions
Can I change a United flight I already booked?
You can change your United flight anytime, but you might have to pay a fee depending upon the time left for departure and your fare category. You get a cancellation fee waiver when you cancel within 24 hours of booking, before 7 days of departure.
What Is the United Airlines Change Flight Dates Policy? 
Except for basic economy tickets, you can change dates on all international flights that originate from the United States and that fly between the USA, the Caribbean, and Mexico. Also, this waiver is available on domestic flights within the USA.
Can I change flight United policy within 24 hours of booking?
Yes, you can. If you've bought the ticket one week or more before the departure and make changes to it within 24 hours of purchase, you don't have to pay any change charges. The same applies to cancellations. 
What Is the time change policy at United? 
Under the rules of the time change policy of United Airlines, you can make same-day time changes without a cost on all types of fare categories, except the basic economy. Award tickets that aren't basic economy are eligible too.
Can you change a non-refundable United flight?
United usually does not impose a fee for changing flights. However, you would still be responsible for paying the increased fare prices. Also, basic economy tickets do not receive such waivers.
Can I cancel my United flight within 24 hours of departure?
Yes, you can do that. However, United will deduct 10% of the original fare amount before providing a refund for the rest of the ticket amount. It will automatically process your refund within 7-20 business days.
Read More Related Blogs: