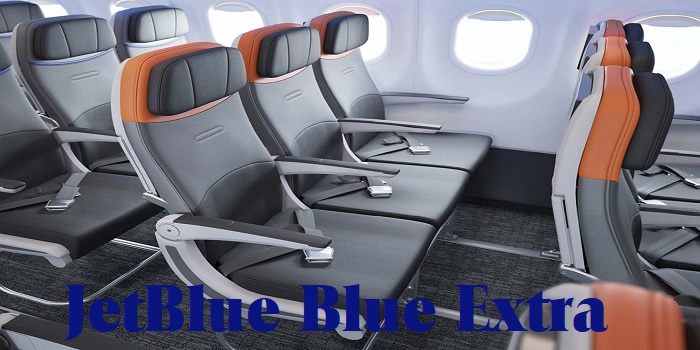 Learn how to get the best out of Jetblue extra packages.
Do you want to enjoy comfortable and spacious flights without spending an extra penny? With Jetblue blue extra, you can surely fly high in the sky without compromising on your comfort.
Passengers find these seats super spacious, even though it is an economy class fare. They can stretch out easily in a 38" legroom. The space and comfort of JetBlue flights are memorable.
So, now are you seeking to find out the answers to what is JetBlue Blue Extra Fare? If yes, then let's check out the below-mentioned sub-topics!
Who Should Book Blue Extra Tickets?
If you are a traveler with less baggage, you can go for the Blue Extra Flights. Passengers with a light carry-on and personal items will benefit the most from the Blue Extra Fare package. 
The blue extra JetBlue doesn't include any checked bags. However, similar to other fare options, flyers of blue extra will get Even More Speed, early boarding, free snacks/ drinks, high-speed Wi-Fi, movies, and 7" more legroom. 
How to book Even More Space seats with Jetblue Blue Extra Seats? 
To find the easy procedure for booking Even More Space Seats of blue extra, then you need to look at the steps here: 
Firstly, select your fare type (Jetblue Blue Extra) while booking your ticket on the official website of JetBlue Airways.

After that, provide your data (name, age, ID proof, etc.).

Also, choose the desired seat and proceed with the booking.

The "Even More Space seats"

get shown as circled against the light blue background. 

Hover the cursor there to know its cost. Other details about the seat would also be available.

Finally, complete the booking.
Note: One cannot choose "even more space" seats through bonus points. 
What Facilities Do TrueBlue Members Or Guests Get with Blue extra?
There are many features available at JetBlue blue extra seats for passengers. Check out why should you book them for future flights: 
Including Personal Items:

Passengers can carry a personal bag ( purse/ laptop bag etc.) with measurements not more than 17″ L (43.2 cm) x 13″ W (33 cm) x 8″ H (20.32 cm). 

Changes/ cancellation fee:

Commuters canceling or changing their bookings won't have to pay a fee. However, this rule does not apply in the case of same-day switches.

Same-Day Standby:

Flyers don't have to pay an additional fee for the same-day standby option. The amount is already included in their tickets, so they can fly worry-free. In JetBlue blue vs. blue extra, this fare structure excels because flyers must pay up to $75 to avail of same-day standby.

Boarding:

Some may question if the Jetblue blue extra is first-class or not. Even though it is an economy class flight, those who have booked blue extra seats can board early on their flights. 

Carry-on bag:

The commuters are guaranteed onboard carry-on bags with blue Extra fares on domestic flights within the U.S. However, the size of Carry-on bags should not exceed 22″ L (55.88 cm) x 14″ W (35.56 cm) x 9″ H (22.86 cm). 
Wrapping Up!
So, what do you think about the latest Jetblue Blue Extra Fares? You should visit the official website of JetBlue Airlines before making the final decision. Also, for any doubts regarding fare and baggage policy, you can also write an email to customer service.
Want to learn more about JetBlue blue extra seats? Dial 1-800-JETBLUE (1-800-538-2583) and talk to live experts. Get instant solutions to booking problems.
Frequently Asked Questions
Read More Related Blogs:
What happens if you miss a flight with JetBlue?
How many people is a group for JetBlue?
Does JetBlue offer upgrade to mint?
How To Book First Class Flights on JetBlue?