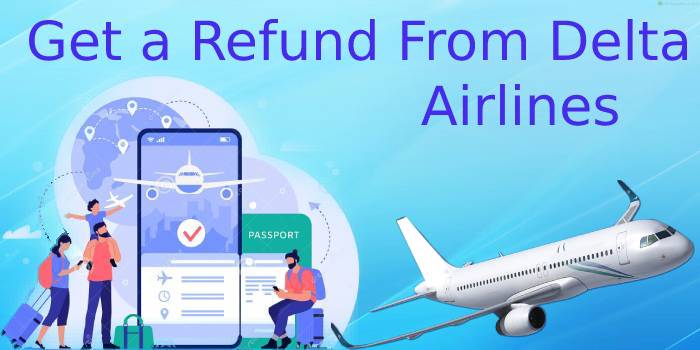 How to obtain a Delta Airlines ticket refund?
Are you not flying with Delta anymore? Do you have some emergency that restricts you from traveling? In that case, it's better for you to cancel tickets and get a refund from Delta Airlines. Let's dig some more information about it and process ticket refunds.
Travelers with Delta Airlines flights can rest assured as they will receive a refund on cancellation with no delays if they are eligible. The passengers can make refund requests, and the airline will send their money back without much hassle. Let's move on to know about Delta Airlines refund policy in detail.
What is Delta Airlines Refund Policy?
Delta Airlines offers the passengers a refund based on the time they booked their flight tickets at first, their fare type, and how they bought them. And as per their refund policy, you may even get your money back. 
Besides, the airline even allows you to get eCredit if your tickets are not eligible for money back on your original payment form. And now, for a piece of good news, you must know the eCredit remain valid up until Dec 31, 2023.
Get a refund on Free Cancellation
As per the 24 hours free Delta Airlines Cancellation policy, the passengers can get a full refund on their ticket. The condition is that your flight must be scheduled to depart after seven days from the time of booking. Besides, you can only cancel within 24 hours of the booking time for a full refund on your tickets.
Besides, this policy will apply to any of the flights and fares. But if you miss this time, you must check whether your ticket is eligible for a refund or not. You can keep reading and find out how to view the eligibility for a ticket refund.
What is the ticket refund eligibility for Delta Airlines passengers?
If 24 hours have passed after your flight booking time and the cancelation window has passed, you can not get a full refund unless you are eligible for it. Below are some of the ticket refund eligibility criteria in detail:
If your Delta tickets are refundable:
When you have a refundable fare ticket, submit a request to the airline.  This is possible after canceling your tickets which you have purchased using a check, cash, or a credit card.  After submitting the request, you will get a Delta refund request number which you can use for further reference. 
The agents may respond to you with an appropriate solution for your refund or directly inform you about the process of your refund.
If you have a Non-refundable ticket:
Suppose your Delta Airlines flight is a non-refundable one. In that case, you won't get a refund. The airline might give you an e-credit on the value of your tickets after deducting the cancellation charges. But that's it.  However, you can use it or book tickets in the future.
Although, there are some exceptions for nonrefundable tickets where you get a free refund.
In case of death of an immediate member of the family.

The sudden death of your travel companion or the person traveling.

If you cancel within 24 hours of the booking.
But, you must provide valid ID proof if there is a possibility of cancellation due to death. The airline may verify the details and offer you refunds.
How do I request a Delta Airlines Refund?
Passengers can simply get a refund from delta airlines. They just need to follow a series of steps and ask for a refund from the airline. You can initiate a refund request, and the airline will provide you with a refund as soon as possible.
Here's the process to request a refund from Delta Airlines:
Log in to your account on the Delts Airlines website. 

Or, simply enter the find my trips section.

After that, select the option to get a refund from Delta.

Follow the onscreen instructions for a refund.

Obtain the refund from the airline.
But this process is valid only requesting the refund within 24 hours of the booking. However, if the period has passed, this takes time. To process the refund, For your ease, Delta Airlines provides you with a certain tool that may help you keep track of your refund status. Plus, if you need additional information, you can talk to a live person at Delta or call our experts for immediate assistance.
Bottom Line
This is how you can receive a refund from Delta Airlines, and you may receive it on your official payment form. You just need to be aware of the process and its rules in detail. So hurry up and cancel your flights for a full or half refund, depending on how you cancel them.
Frequently Asked Questions
See More Blog
How to get a Delta airlines student discount?
Do airlines offer discounts for group travel?
Delta Airlines Senior Citizen Discount
What are delta red eye flights?