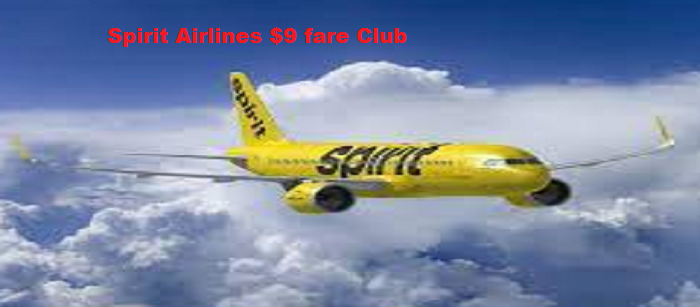 Spirit Airlines is known to be an Ultra-low-cost airline providing the passengers some of the cheapest fares available to ensure their comfort. Choosing the Spirit Airlines flights to travel by air can help you to save a lot of money. Along with the benefits of low fare tickets and continuous offers and sales, Spirit Airlines also offers phenomenal discounts through a paid plan called the 9-dollar fare club. However the name $9 is a little misinformed, because you rarely encounter such low fares, this service can help you to save big bucks on booking group travel or last-minute booking fees. You may not often save enough money to pay membership fees, but without membership, we have an option for you to save even more. Let us explain everything that you need to know about Spirit $9 fare club and save big on the next flight
How much does the Spirit $9 fare club cost?
Contrary to its name, the total annual fee for this Spirit $9 Fare Club membership is $59.95, and the renewal fee is $69.95. You will enjoy discounts on air ticket bookings, vacation package deals and online baggage reservations, in exchange. In total you can benefit with an utmost 50% discount. If you will travel with a group of friends or family, you can save your money, because you can accommodate up to 8 passengers in the same booking. Thus you can enjoy exciting Spirit 9 fare club rewards and deals.
How much can the Spirit $9 Fare Club save you?
A member of Spirit Airlines $9 fare club service can save $10-30 per ticket on an average count. This should be noted that all Spirit Airlines flights do not have discounted prices, so you may not be able to get more usage rights from the membership of $9 Fare Club. Using the calendar function of Spirit Airlines, you can check the availability for the coming months. 
Can I be a Spirit $9 trial member? 
If you are not yet ready to join a full membership, you can sign up for the Spirit $9 Fare Club trial program at a price of $19.95. The period for membership trial is two months only. After the two months the renewal of membership will cost $69.95. Interested passengers can register for the fare club trial version on the payment page when you book your ticket. If you are not a regular flyer from Spirit Airlines Reservations and have already identified some discounted tickets you want to take advantage of, the $9 trial version may be the right choice. This is also the right choice if you want to save group bookings. Please note that since the appointment is displayed on the checkout page, you can only sign after booking the flight.
Can I Get $9 Fare Club benefits without a membership?
Buying a Spirit 9 dollar fare club membership will be worth your money if you are a frequent flyer of the airline. Also if you plan to book in groups you can get interesting benefits with this service. However, you must know that these fares are not available for all Spirit Airlines flights. If you do not have a plan of using this membership after one time flight booking, then try a cheaper alternative by purchasing a $19.95 two month trial. You can also drive to the airport and find the rewarding $9 fare flights from there. 
Contact Spirit Airlines Telefono anytime if you have any questions for their discount fares or want to purchase for larger groups. The airline agents will serve you the best possible assistance and guide you towards your journey.
See more: 
How do I Talk to a Person at Spirit Airlines?
How to book Allegiant Airlines Group Travel?