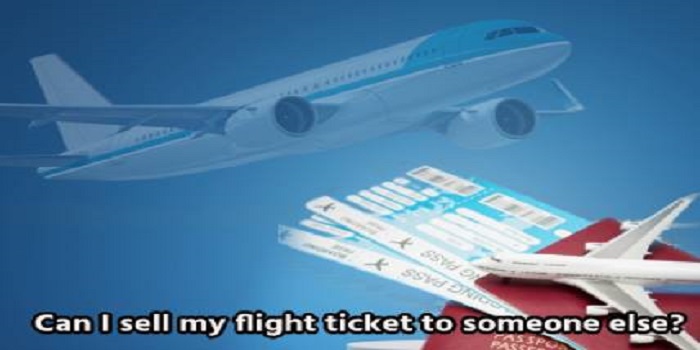 Sell your airline tickets to Someone else's name!
Suppose your plans have changed and you can't fly anymore. In that case, you can either change or cancel your airline tickets. However, this is not the only solution. What if we tell you that you can sell your tickets? If your question is Can I sell my flight ticket to someone else? We have all the answers here in the section below.
If you want, you can even sell your flight tickets to another person. However, this is only situated with the airline that allows name changes on the tickets. In other words, your ticket should be transferable if you wish to sell it to anyone.
So, if you wonder, How do I sell my flight tickets? You can be at ease if you have a transferable ticket. And with a little time and some extra effort, you'll be able to sell the tickets that you no longer want to use.
But if you do not know about the tickets selling process or purpose, you need to be with us until this article completely ends. So, hurry up, and find out your options.
How can I sell my flight ticket online?
Suppose you are no longer traveling. In that case, you must want to know the process to sell my flight tickets or how to change/cancel them. And if you wish to sell your tickets, you gotta be aware of certain points related to it.
You can sell your airline ticket to somebody else only when your airlines allow you to change the name of passengers.

Some airlines only allow spelling errors corrections for names. And this isn't the same as changing names to a different person.

Changing the name even requires you to pay a certain fee which may vary based on the time you are making the change.

Most of the airlines with low-cost fares offer changes in name as their official policy. So, you can make changes to your online account.

However, some regular airlines do not allow name changes, but they make exceptions for loyal customers. So, it might be better if you are a frequent flyer with the,
Hence, it may always be better to call your airline and know how to sell unwanted flight tickets to someone else.
What if my airline allows airline changes; Can I sell my tickets then?
Suppose you are a resident in the EU and you have booked a flight package with a hotel. In that case, you can easily change your vacation package under the EDPT European directive of Package Travel, holidays, and tours 1990. 
This directive will force the travel agents to change the name of passengers under the booking. Hence, you can check with the vacation planner about the fee and deadline and transfer your tickers.
The airlines usually charge a certain fee within 25-50 dollars as a fee which you can use to your advantage while selling the tickets. So, it's all up to you.
How do I check whether my flight is Transferable?
If you want to check how to Transfer a Flight Ticket To Another Person, or if it is even transferable or not, it's simple. Just know about the name change in detail and then check whether your airline allows you to do so.
Change Name to another person
If you wish to resell your plane ticket, the airline must allow the name changes. And this is how you can resell your tickets. Also, you get a full or partial refund. Besides, most of the low-cost airlines, as well as standard ones, allow this for a certain charge.
Check with the airline
There is around a list of over 60 airlines that offer you changes in names. You can visit the airline's name change fees section to view this. And if your airline is not on the list, t means your flight isn't transferable.
Know Your travel agent just in case
Suppose you purchased the flight through an airline travel agent. Then in such a case, only the rules that travel agents set will apply to it. The airline's rules will follow and only then can you sell your tickets to someone else.
Hence, if you've been wondering Can I sell my flight ticket to someone else? There may be an answer to this.
How to sell unwanted flight tickets?
If you have a non-refundable ticket that you no longer wish to use, you can recover a part of your money or all of it if you sell them to someone. So, knowing How to sell unwanted flight tickets? comes with a lot of advantages.
Here's how you can sell your unwanted flight tickets to someone else:
Firstly visit the online website that offers ticket selling.

Next, find your airline. If you do, it means the airline allows name changes. Otherwise, they must not officially allow it.

In that case, call the airline's customer service.

After that, you can list the flights yourself based on the standard or assisted post method.

Now, if you have chosen to post it by yourself, you need to provide all the information.

Further, the buyers may bid for your ticket.

Finally, the buyer will pay for your ticket, and you can transfer it to their name. This happens when you accept a suitable bid.
You can also make a name transfer and make another individual head of your American Airlines group travel when flying with AA. However, let's suppose that you missed any important factor while selling your ticket. You can simply call us and speak to one of our agents for help.
Frequently Asked Questions