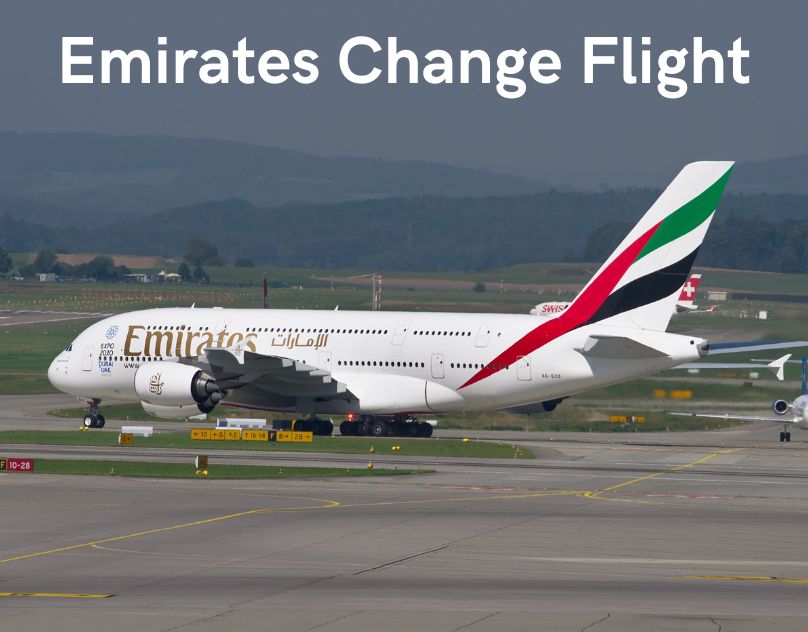 Do you want to modify your booking's destination or date because your plans have changed? With Emirates change flight policy, you can alter your ticket's city, date, or time upto 24 hours before scheduled departure. You may need to pay the fare difference and service fee if applicable.
As per the revised rules, the validity of COVID-affected tickets has been extended to the next 36 months from the scheduled departure date. 
Read below to learn more about the emirates flight change policy.
Emirates Change Flight : Term & Conditions
The emirates flight change policy has laid down these rules for flight modification and charges. Take note of these conditions to make informed decisions.
Tickets bought through travel agents must get changed quickly before expiry.

While booking online, fare differences and service fees are visible during checkout.

If you can't see the option to change your Emirates air ticket online after filing details, then the booking isn't eligible for the facility.

Emirates skywards bookings change requires passengers to fill Rewards change form.

Changes made to a booking apply to all passengers of a reservation.
To make flight change for one passenger on the reservation, talk to someone from Emirates at 1 (800) 777-3999 and place your request.
24-Hour Emirates Flight Date Change Policy
Passengers of all travel classes can reschedule their flight as per the 24-hour change flight policy. Under this, they can modify the booking free of cost within the day they book their ticket from official sources.
The following tickets are eligible for free flight change under this facility:
Tickets are bought via the official website of Emirates.

Reservations are made via Emirate's mobile app.

Through airport kiosks or regional offices.
Reservations bought through Emirates customer service on 1 (800) 777-3999 are also eligible for the 24-hour cost-free cancellation/ change.
How To Change Emirates Flight Date?
Change flight date facility is available via phone call and the official website. You can dial the Emirates customer service number or visit the Manage booking section on the site.
Method 1: Edit Ticket Online By Visiting The Website
Firstly, open the official site: emirates.com.

Next, click the

Manage

menu available on the top bar.

Further, go to the sub

manage

menu to open

Manage Your Booking

.

Also, click

change your booking

. 

The form to

emirates reschedule flight

facility will open.

Fill existing ticket's last name and booking reference ID.

Click the

retrieve booking

button.

Follow the prompts to change the date, destination, stopovers, and route type of flight.

Lastly, change your class of travel or cancel a part of the itinerary.
Once you've finalised the modifications, pay the required fare difference, and emirates change flight destination fee. After receiving payment, you will get a confirmation email with details of a new ticket.
Method 2: Dial Change Flight Contact Number
Call 1 (800) 777-3999 to talk to someone at Emirates to change your flight.

Next, wait for the IVR to pass automated instructions.

Press # to repeat instructions (in case you missed any).

Further, press the required key to know flight change policy details. 

Also, dial the necessary key to speak to an executive at Emirates.

The representative will ask for your booking ID/last name.

They will let you know if the flight is eligible for change.

After that, you must provide the latest destination, route, stopover, number of passengers, and other details. 
Once you pay the required Fee applicable as per Airlines change flight date policy, you will receive a confirmation message from the agent. The link to download the latest e-ticket will also be available.
How Much Does It Cost To Change Emirates Flight?
You must pay $0- $400 as change flight fee to modify the date/ destination in your booking. However, the amount depends upon your travel route/ type/ distance/ and time left for departure. 
Change Flight Date Cost As Per Travel Class: 
| | | | |
| --- | --- | --- | --- |
| | Economy | Business | First |
| Minimum Fee | $75 | $300 | $250  |
| Maximum Charge | $200 | $400 | $400 |
Flight Change Fee As Per Fare Type:
Fare Type
Charges
Special Fare

Not eligible for change

Saver Fare

Economy: $200

Business: $400

Flex Fare

Economy: $200

Business: $400

First Class: $400

Flex Plus Fare 

Free Of Cost Till Departure
Change Flight Due To Covid Rules
Are there any special provisions in the Emirates flight reschedule policy if your flight is affected due to COVID? Yes, indeed. 
You won't have to pay any flight change fee if you extend the validity of your booking before it expires.

Further, one can extend it upto 36 months from the scheduled departure.

One can make flight change through emirates contact number 1 (800) 777-3999 or manage booking option from the website.

However, you will be charged any applicable cancellation fee.
Lastly, you must pay the standard fee if you upgrade your flight.
Read More Blogs Here:
Talk to a live Person at Spirit Airlines

speak to a live person at Lufthansa
How do I Talk to a Person at Southwest
Speak To A live person at Volaris Airlines
Talk to a Live Person at Aeromexico
Frequently Asked Questions
Does Emirates allow change of flight?
Yes, indeed. You can make any change by dialing the Emirates flight change phone number 1 (800) 777-3999 or by visiting the manage booking option on the official website. If your flight is impacted due to COVID-19, you can reschedule it for upto 36 months from the scheduled departure date.
How much does it cost to change your ticket on Emirates?
Emirates reschedule fee before scheduled departure.
 You can reschedule your Emirates flight by paying a minimum of $50 per segment per passenger to change the flight. To change the itinerary/ date of one passenger's journey, you must contact the reservations separately, as this facility isn't available online.
Is changing flight date Emirates free?
You don't have to pay any change flight fee for rebooking a flight until it is valid. However, you must pay fare difference and taxes to switch dates/destinations. Hence, you have more flexibility to plan things.
How long before flight can I change date Emirates?
24 hours
Passengers can modify their booking before the Emirates check in window opens. Hence, you can reschedule your flight till 24 hours before the flight's scheduled departure. Also, you have to pay any applicable change flight and service fee.
How to change flight date for free Emirates?
You can change your flight date for free through Emirates manage booking if you've bought a flexible fare option with your ticket. Also, if your ticket is affected due to COVID, you can modify it for free and reserve the prices upto 36 months before departure. Also, some Emirates-branded credit cards offer free flight modification.