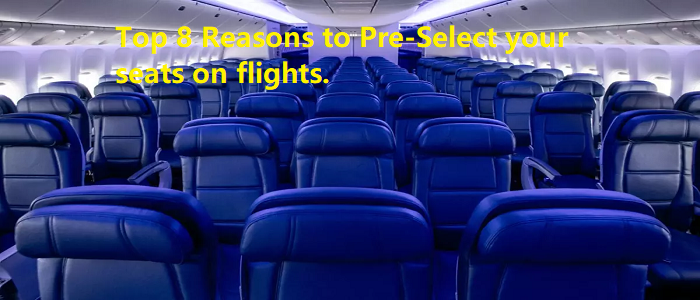 Whenever we book a flight, we wish to make the best out of it. And the central part is to find the best seat on the flight. A comfortable seat ensures your comfort throughout the flight. We see a flight that suits us on an airline's official website or from a third-party agency. And while we are making flight reservations, we are asked to pre-select seats. Selecting seats in advance is the best thing to do and have many advantages. As for why you should pre-select seats can have many reasons. Some of the crucial reasons for advance seat selection are listed below:
8.) You can choose the desired Seat
This can be the very first reason for selecting seats in advance. Whether you prefer a window seat, an aisle seat, or seats in the middle, you can get a chance to choose any one of them if you pre-select your seats. No matter if it is a front seat or rear seat, you might get your hands on the one you like if you select in advance. If you reserve a seat in advance, you will get more choices! You will beat everyone who only chooses a seat during the online check-in and airport check-in stages. If you do not reserve a seat in advance, you may lose your preferred seat. When you check-in online, some airlines don't even allow you to choose your seat for free. Thus, Choosing where to sit will significantly change your flying experience!
7.)  You can have a comfortable journey
There is nothing worse than sitting next to an annoying stranger on an airplane. Although they are usually friendly, you might sit next to an impolite person or try to chat with them when you don't want to chat. The best way to crack this problem is to sit next to someone you know so that you can avoid all small talk and you don't have to pretend to be fascinated by their stories. For those who don't like flying or those who get nervous, the least you can do is choose your seat to make yourself comfortable. If you are uncomfortable or disturbed while sitting in an aisle seat, the entire flight experience will worsen your trip to your destination.
6.)  Paying to reserve seats is worth it!
We think seat selection is like your flight insurance; you don't have to pay extra for the seat reservation, but why don't you want to be guaranteed? If you can afford the minimum additional cost, which saves you the trouble of airport or check-in online, why not? Air travel should never be the most stressful or challenging part of your journey! So it is far better paying for your seats in advance than to make a compromise after that. See the seat selection policy by KLM Reservations. It is the  USA's best airline and one of the top aircraft carriers that offer you the best services.
5.) You can sit together with your family and groups if you pre-select seats
The airlines are not obligated to keep the family/group together. Believe it or not, the British Civil Aviation Authority stated that airlines are under no obligation to let parents and children sit together. Therefore, we cannot guarantee that you and your child will sit together without pre-booking seats. If you are traveling with a companion and do not want to beg for a seat together. It will be best to reserve your seat in advance to avoid disturbance at the airport. If your airline is disappointing, then at least your partner must be next to you!
4.) The airline will allot left-over seats during check-in
If you think you can choose a seat that was not selected before check-in at the airport, then you are wrong! This is simply because the airline reserves some seats for emergency or operational purposes. Indeed, sometimes airlines will reserve some seats before online check-in. However, if you choose a seat when purchasing a ticket, the airline is less likely to want to annoy passengers after selecting a seat, and you are more likely to get the seat you want.
3.) Pre-selecting will make you relieved while checking in for flights
If you did not book a seat in advance during check-in, you might be nervous when you board and show your boarding pass at the airport until your seat is finally informed. Booking your seat in advance will also save you from having to arrive at the airport earlier because you are the last person who can check-in, so you don't have to worry about assigning unfavorable seats.
Hate to wait in line at the airport? If you have booked your flight in advance, got your boarding pass, and do not have any luggage to check-in, you can go directly to the airport security department!
2.) There's a chance you can't get your desired seat during layovers
According to the British CAA, the possibility of being split depends on the airline you fly with. Some airlines have been severely criticized for their seating policies, while others try to accommodate groups and families. However, it will always depend on availability. Booking your seat in advance means that no matter which airline you fly, you can be sure to get the seat you want. Of course, this is necessary unless the airline must rearrange the seat allocation for safety and operational reasons.
1.) Experience the Royalty
The person by the window can uniquely enter the curtain, thus determining the lightning that suits them best. The aisle seat is too far from the window to decide the fate of the blinds. However, if someone wants to slide the blinds up and down, they must ask for permission from the person in the window seat during the entire flight, that is, the window blind commander. But still sitting on the preferred seat will be the best thing you o and feel the royalty experience.
Although all the airlines are the best in terms of service and have their own perks but still Choose to go with Delta Airlines Reservations, and you'll enjoy the best of all.